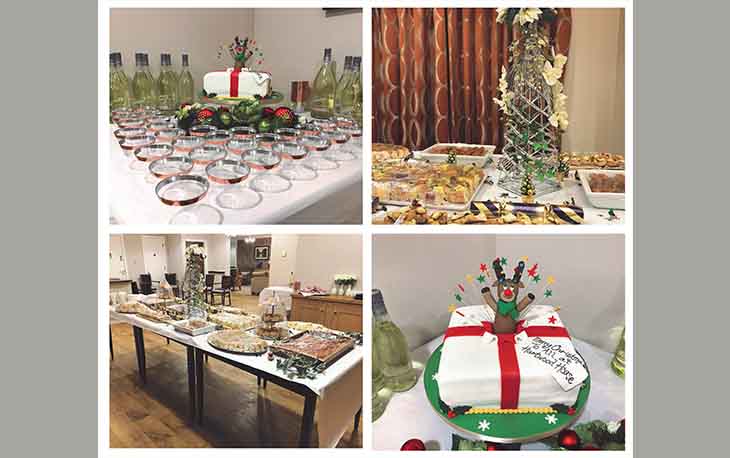 Funeral Arranger Helen Osment and party planner extraordinaire worked hard to organise a festive feast for both the eyes and the senses which was enjoyed by all, so much so that there was nothing left at the end!
Helen, on behalf of J&L Sturney Funeral Directors contributed considerably to the evening which was attended by a local Minister and an organist. Christmas carols were sung by the 50 residents and their families along with traditional Christmas readings.
Helen said: 'This is the first year I have organised a Christmas event at Hartwood House. The food was wonderful. I provided all glasses and tableware for the buffet, made the novelty Christmas cake, flower arrangements, served the wine ,dressed the buffet table, served the food, cut the cake, and served food and drinks.'
Helen's handiwork extended to the table decorations, making handmade silk orchid arrangements with silver and gold additions, tiny sparkling Christmas trees, mini gold Christmas puddings, crackers, holly and ivy. Afterwards Helen helped clear away after what had been a busy day and night before icing the cake.
Four family members of residents who live at the care home visited the funeral home the next day to convey their many thanks, reiterating what a lovely evening it had been and their enjoyment.